Are you a residential property developer searching for high-capital growth opportunities? Converting buildings to House of Multiple Occupancy (HMOs) can be a lucrative investment. With rising property and rental prices, more people are unable to afford larger accommodations, which is where shared houses and flats come in handy. In this blog post, which we deem 'The Ultimate Guide to Understanding Houses of Multiple Occupation (HMOs)', we'll define HMOs, outline their fundamentals, and explore the tools you can use to find the best opportunities.
Shortcuts ✂️
What is a House in Multiple Occupancy (HMO)?
Houses in Multiple Occupation (HMO), or a House of Multiple Occupancy is an entire house or flat that is rented out to three or more tenants who are not from the same household, as defined by the Housing Act 2004. If two friends live together, this won't be classified as an HMO. However, if a third friend joins, it will be considered one.
It's important to note that having two couples living together (four people or two families) won't make it a HMO since there are only two different households. A few people can live in a property without it being a HMO, but as soon as a third occupant from a different household is added, it becomes one. Therefore, the number three is crucial in defining an HMO, contrary to popular misconceptions that HMOs start at five or six people.
Why do we need HMOs?
The UK residential property market has been facing a multitude of challenges in recent years, including rising property prices, stagnant wages, and increasing demand for affordable housing. This has resulted in a severe housing shortage, making it difficult for people to find affordable homes. One solution to this problem is the creation of Houses of Multiple Occupancy (HMOs). Here are some reasons why the UK housing market needs HMOs and why they are still a popular choice for residential property developers to continue exploring in 2023:
💰 Affordable Housing: HMOs provide affordable housing options for tenants, especially for low-income households, young professionals, and students. Tenants can save on living expenses by sharing the property and splitting the rent.
📈 Maximising Rental Income: HMOs can generate higher rental income for landlords than traditional rental properties. With multiple tenants renting individual rooms, landlords can earn more rental income than they would with a single tenant renting the entire property. This makes HMOs an attractive investment opportunity for landlords or property developers.
🏠 Reducing Housing Shortage: HMOs can increase the housing supply, making it easier for people to find affordable homes, and help to reduce the housing shortage in the UK. Residential property developers can use HMOs to accommodate multiple tenants within a single property, particularly in areas with high demand for rental properties.
💡Meeting Changing Demands: With a growing demand for flexible rental options and an increasing number of single-person households, HMOs offer a flexible and affordable housing solution. This factor paired with the growing apathy towards house ownership among 21–35 year-olds means there is an essential need for HMOs.
🤝 Providing Social Benefits: HMOs can provide social benefits, particularly for tenants who may be living alone or in a new city. By sharing a property with other tenants, they can form new friendships and communities, reducing feelings of isolation and loneliness.
How do you find HMOs that give the maximum chance for profit?
Not all Houses in Multiple Occupations (HMOs) are created equal when it comes to profitability. Here are some tips on how to find HMOs that give the maximum chance for profit.
Research the Market
Before investing in an HMO, it's important to research the market. Look at the demand for rental properties in the area and the average rental prices for HMOs. Consider the location of the property, as well as its proximity to transport links, amenities, and employment centers. Identifying an area with a high demand for rental properties can increase the chances of finding profitable HMOs.


Consider the Property's Layout
The layout of an HMO can have a significant impact on its profitability. Look for properties with multiple bedrooms and bathrooms, as this can attract more tenants and increase rental income. Additionally, consider the size of the communal spaces such as the kitchen and living room. A larger communal area can make the property more attractive to potential tenants.


Check for Licenses and Regulations
HMOs require a license from the local authority, and there are regulations that landlords must follow to ensure the property is safe and habitable. It's essential to check for licenses and regulations before investing in an HMO. Failure to comply with regulations can result in fines and legal issues that can impact profitability. (We'll cover Article 4 and planning permissions shortly).


Calculate Your Costs
It's important to calculate the costs of running an HMO to ensure it will be profitable. Consider the costs of any necessary renovations or repairs, as well as ongoing maintenance, insurance, and management fees. Additionally, factor in the cost of utilities and any other expenses that will be incurred. Accurately calculating these costs can help determine the profitability of the property.


Consider Hiring a Property Manager
Managing an HMO can be time-consuming, and hiring a property manager can help alleviate the workload. A property manager can handle day-to-day operations, such as finding and vetting tenants, collecting rent, and handling maintenance and repairs. While hiring a property manager can be an additional expense, it can also increase the chances of finding profitable HMOs by ensuring they are managed effectively.


What type of licence do you need for a HMO?
To rent out your property as a house in multiple occupation (HMO) in England or Wales, it is essential to check with your local council to determine whether a license is required.
In both England and Wales, a license is mandatory for renting out a large HMO. A property is classified as a large HMO if it meets the following criteria:
Five or more people rent the property, and they belong to two or more households.
The tenants share bathroom, kitchen, or toilet facilities.
At least one tenant living in the property pays rent, or their employer pays rent on their behalf.
It's important to keep in mind that HMO licenses have a validity of five years. Once the license expires, you will need to obtain a new one if you wish to continue renting out your HMO property.
Additional licensing has been brought in by certain councils. This means that they are more concerned about the standards of the HMOs in their town. This is done by reducing the council's threshold for the number of unconnected people in a property that require a licence. This can go down from five to four, or even three. So, if the council has an additional licensing scheme for three or more unconnected people, every single HMO will require a licence.
It's worth noting that every council has a set of standards that you must comply with to obtain an HMO license. These requirements, including the minimum amenity space, washing and cooking facilities, and minimum room sizes, can be found on the council's website.
The most important standards to consider are the national minimum room sizes. If you plan to rent your property to adults, the following bedroom sizes must be met:
Single occupancy: 6.51m2
Double occupancy: 10.22m2
Please note that the above sizes do not include en-suites since they are considered as washing facilities, any floor area where the height is less than 1.5m, any unusable corridor space, or chimney breasts. However, built-in wardrobes are included in the minimum room sizes.
Do you need planning permission to create a HMO?
For property developers, it is important to note that in England, planning permission is required to create a House in Multiple Occupation (HMO). HMOs have their own use class and changing the use of any building or piece of land in the UK requires planning permission. Some HMOs have permitted development rights, which may be relevant to property developers.
Under Part C of the Use Classes Order, HMOs are categorised as either Class C3 - Dwelling houses, or Class C4 - Houses in Multiple Occupations. Class C3 refers to a residential dwelling house, while Class C4 refers to a dwelling house occupied by not more than six residents as a "house in multiple occupations".
It is important to note that as soon as you add a third tenant, the use class changes from C3 to C4 small HMO. The C4 use class allows for between three and six unconnected people, while C3 refers to a family occupying a dwelling house. It is crucial to comply with the minimum standards set by each council, including minimum amenity space, washing and cooking facility requirements, and minimum room sizes.
What do I need to know about HMO Planning Permission?
When it comes to planning permission for HMOs, the key factor to consider is the number of residents you intend to have living in the property. You can convert an 8-bedroom house into an HMO without requiring full planning permission, as long as you have six or fewer residents. However, if you plan to have seven or eight residents, you will need to obtain planning permission before proceeding.
To ensure your HMO complies with planning regulations, here are some key areas to check:
Parking - Make sure you provide adequate parking space for residents. Check if the council has a policy on parking provisions and whether off-road parking is required.

Cycle Storage - It's essential to have secure and covered cycle storage facilities for residents, ideally at the rear of the property.

Bin Storage - Adequate bin storage facilities should be available, preferably at the rear or side of the property.

Concentration Limits - Check if there is an overconcentration of HMOs in the area, as this may impact your chances of obtaining planning permission. The council may have specific policies, such as limiting HMOs to no more than 10% of properties within a 50m radius.
By considering these factors, you can increase your chances of obtaining planning permission for your HMO.
What is Article 4 Direction?
In its simplest form, an Article 4 Direction is a legal power that local authorities in the UK can use to restrict permitted development rights in specific areas. In the context of HMOs, an Article 4 Direction can be used to remove the automatic planning permission that applies to the change of use from a C3 (dwelling house) to a C4 (small HMO) property.
Without an Article 4 Direction, property owners can convert a C3 property to a C4 HMO without the need for planning permission. However, if an Article 4 Direction is in place, property owners would need to apply for planning permission to convert a C3 property to a C4 HMO in that specific area.
Article 4 Directions can be introduced by local authorities to help control the concentration and impact of HMOs in certain areas. By requiring planning permission for HMO conversions, local authorities can better manage the number of HMOs in an area and ensure that they meet certain standards and requirements.
🚀 Pro tip: Nimbus provides valuable assistance to professional property developers looking to pinpoint areas where Article 4 is in effect across the UK. We'll help you visually identify all local authorities where Article 4 is in effect at the click of a button.

What are Sui Generis HMOs?
In the UK, HMOs are classified under two main use classes: C4 (Houses in Multiple Occupation) and Sui Generis. Sui Generis is a Latin term meaning "of its own kind" or "unique", and it is used to classify HMOs that do not fall within the C4 category.
Sui Generis HMOs are those properties that are occupied by more than six people, forming two or more households and are not a single-family dwelling. They include large HMOs, such as those with three or more stories and/or five or more occupants, and student accommodation with shared facilities. These types of HMOs are subject to different licensing and planning requirements than smaller HMOs in the C4 use class.
Local authorities have the power to impose Article 4 Directions to remove the permitted development rights of C3 properties to be converted into Sui Generis HMOs. This means that property owners will need to apply for planning permission before they can convert their property into an HMO, even if it falls within the C3 use class. This is to prevent the over-concentration of HMOs in certain areas and to ensure that properties are converted in a way that is safe and appropriate for the area.
Where can I find the best HMO opportunities?
Finding potential HMO opportunities is made easy with Nimbus. Here are some tips to consider:
Look for properties with the potential to create an uplift
Purchase an existing HMO and modernise it
Convert a commercial building to a HMO.
📐 Maximising Space: Maximizing space is key, and with Nimbus, you can utilise the OS Master Map to see the property outline, determine site density, and identify extension possibilities.
✅ Check planning applications: Our planning applications feature lets you compare other properties in the area to gauge what is acceptable in terms of local authority planning - enabling you to make confident decisions based on applications that have been approved or refused in the area.
🗺 Local Knowledge, virtually: Knowing the number of floors in a property is crucial for determining the number of possible rooms. Nimbus offers a street view to assess the number of floors in a property.
🤝 Done-for-you site finding: Another useful feature in Nimbus is the HMO overlay, which helps identify HMOs in a specific radius and understand the concentration level of HMOs in the area. This is helpful in determining demand and good locations for more HMOs.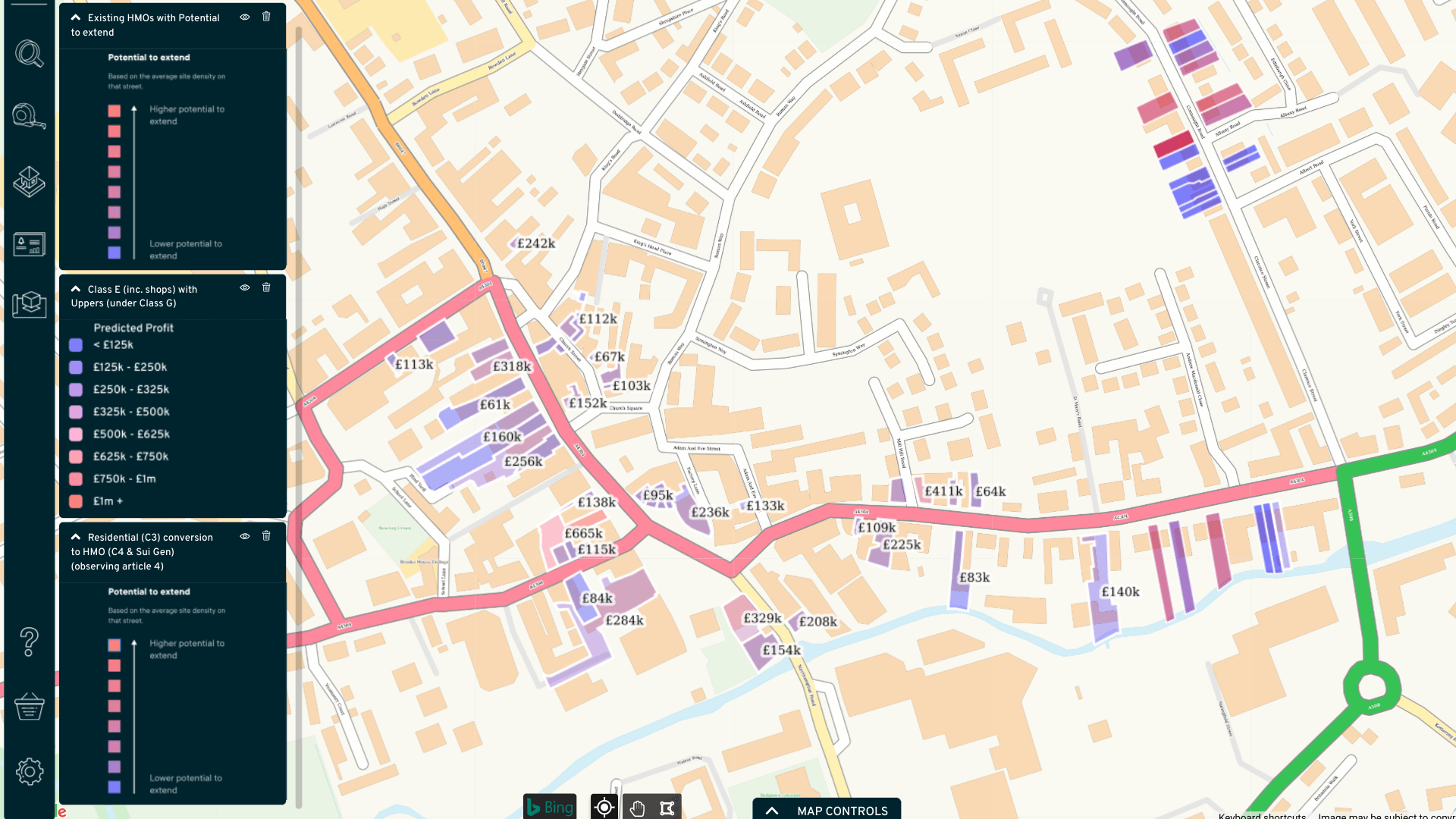 [Pictured: Nimbus HMO overlay using OS Mastermap]
Discover all our innovative features here or experience how Nimbus's HMO tools can help find, assess, and land more deals, request a free trial with a full demonstration now.