In the fast-paced and ever-changing world of commercial property development, staying ahead of the competition is crucial. That's why leveraging data has become increasingly important for developers and surveyors. With the rise of PropTech (that's property technology), a multitude of technology solutions are now available to streamline operations and enhance performance. However, choosing the right technology can be a daunting task, which is why using the right data is essential to make informed decisions.
A commercial property data tool can provide invaluable insights into the market, allowing developers and surveyors to identify the best opportunities. By leveraging data analytics and market intelligence, you can gain a competitive edge, optimising your portfolio and driving success.
Whether you're looking to identify potential development sites, assess market trends, or streamline your property management operations, the right data tool can help you achieve your goals.
Eight data insights that you should look for when choosing the right property data tool
Planning Insights: A complete view of current and historical planning activity for a property and its area gives you a greater understanding of what uses are in demand and driving the most value. This helps you to identify and assess investment, land or vacant building opportunities and understand the chances of getting planning consent, as well as local insight, into what other developers are planning to do in that area.


Sales Values: Unlock the key to profitable commercial investments by understanding accurate purchase and sales prices, along with development costs. With complete transparency into local values and comparable properties, you can assess potential risks and make informed decisions. Remember, both the purchase price and the exit value play crucial roles in determining the success of a project. The age-old adage "you buy right, you make money" holds true. By maximising exit values and minimizing purchase costs, you can maximise your profits and achieve financial success.


Comparable Analysis: Don't fall into the trap of applying values from one region to another, as there can be significant differences. Even neighbouring streets can have vastly different values. That's why having access to local and specific comparable data is absolutely crucial. Understanding the local market values for different uses is also essential in making smart decisions about a property's best use and layout. For instance, could a site generate higher profits as an office, a retail space, or a combination of both? Stay ahead of the game by having the right data at your fingertips.


Property transaction history: Uncover the hidden gems in a property's transaction history and discover the answers to crucial questions such as its last sale price, who currently owns it (is it a company?), and how to get in touch with them. Keep your eye out for powerful property data tools that provide in-depth insight into both freeholds and leaseholds. This knowledge is the missing piece in the puzzle that will help you make informed decisions and seize the best opportunities.


Residential Values:

Even if you're a commercial property professional, insight into residential values is critical. Knowing the current and historical values of residential properties in a specific area can help you understand the potential impact of new developments on the surrounding area, and in many instances allow you to compare and determine the most profitable exit strategy.




Ownership Insight: Your tool should allow you to check the credibility of the people and companies you are doing deals with. It should also provide ways of browsing corporate portfolios to support comps or negotiations with them or their competitors. For example, the leasehold data within Nimbus Maps provides in-depth insight into what terms occupiers are agreeing to, allowing you to secure optimum terms for any similar schemes you are working on. Also, it can allow you to target other assets within their portfolios.


Industry Black Book: Having access to a comprehensive directory of key players in the industry, such as architects, contractors, and real estate agents, can help you build valuable relationships and stay informed about industry trends. The bespoke planning export within Nimbus Maps allows you to understand which companies and professional teams are most active in a particular area.


Comprehensive Comparables: Having access to a wide range of comparable properties, including both commercial and residential, can give you a more complete picture of the market and help you identify potential opportunities.

The price you pay for a property can make or break your profit margins, that's why understanding comparables is so important.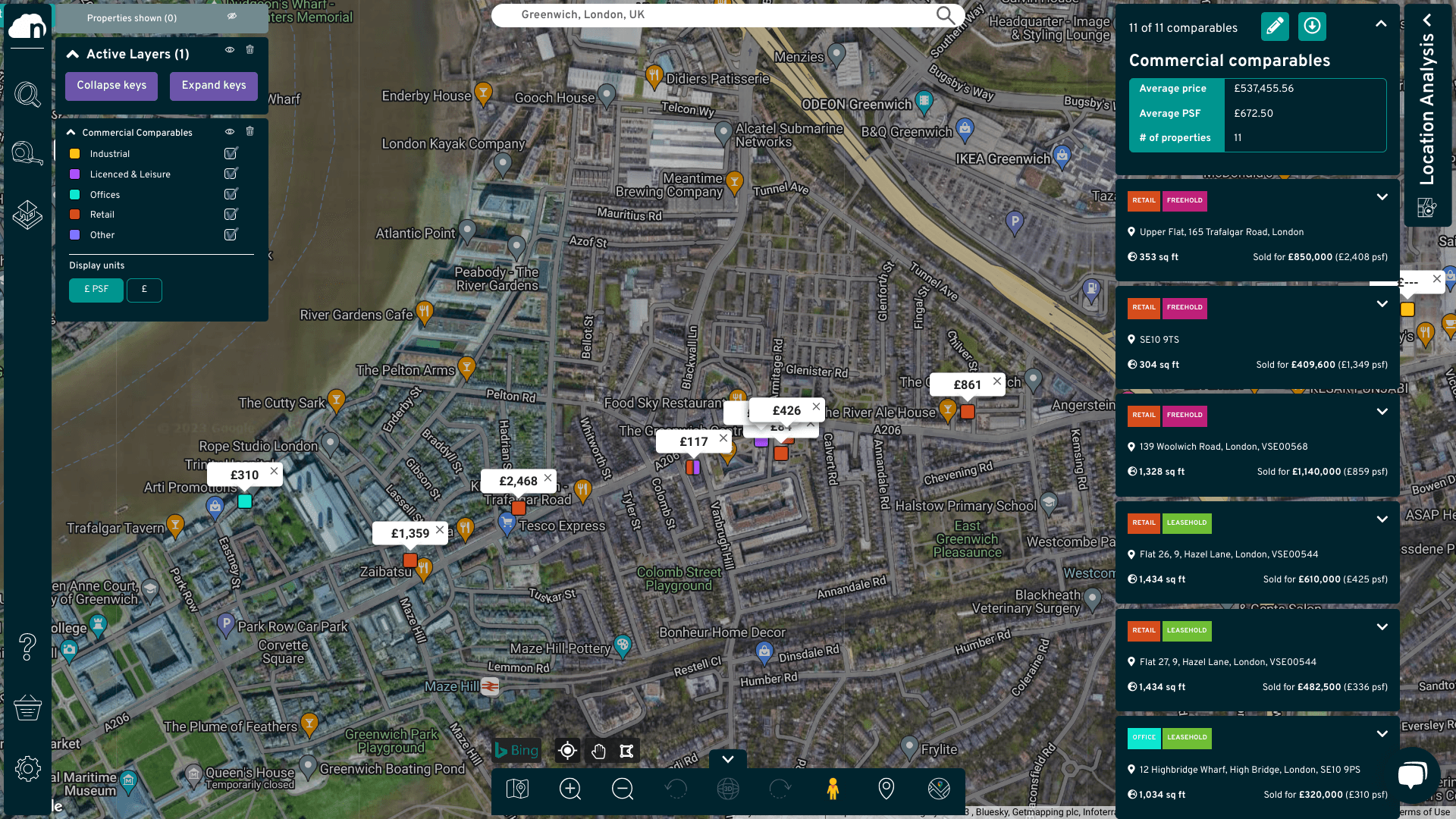 [Pictured: Commercial Comparables overlay in location analysis Nimbus Maps 2023]
🚀 Protip: Download our free commercial property guide to find out how you can power your commercial growth with quality property data intelligence
Searching for that prime opportunity just ripe for development can be tough when there are so many variables to consider - from previous planning refusals to flood risks and building constraints in the area - just to name a few. That's why you need access to a fully rounded data set, with a powerful tool at the helm, to make the most informed decisions.
Using a commercial property data tool can give you a significant competitive edge by providing valuable insights and helping you stay informed about the latest trends and opportunities. By choosing the right fit for you, you can simplify the process of finding the best deals and capitalise on the current exciting property market.
Outpace competitors, and build your property pipeline
In the fast-moving world of commercial property development and surveying, staying ahead of the competition is crucial. To succeed, businesses need to be agile and capable of scaling rapidly to meet demand. That's why PropTech solutions have become increasingly popular, offering innovative tools and features to help streamline operations and enhance performance.
However, many PropTech solutions on the market only offer limited site sourcing or assessment capabilities. At Nimbus, we understand that commercial property professionals need more. That's why our platform has been specifically designed to provide the most comprehensive data and market insight intelligence, allowing you to make the best decisions whilst scaling up your site finding and property assessment needs to outpace your competitors.
Our unparalleled features and tools bring together your full pipeline, delivering projects as integrated tasks rather than siloed operations. Whether you're looking to source new sites, assess market trends, or optimise your property management operations, Nimbus has everything you need to succeed in the fast-paced world of commercial property development and surveying. So why settle for less when you can partner with Nimbus to build your property pipeline and achieve your goals? Start your free trial now.